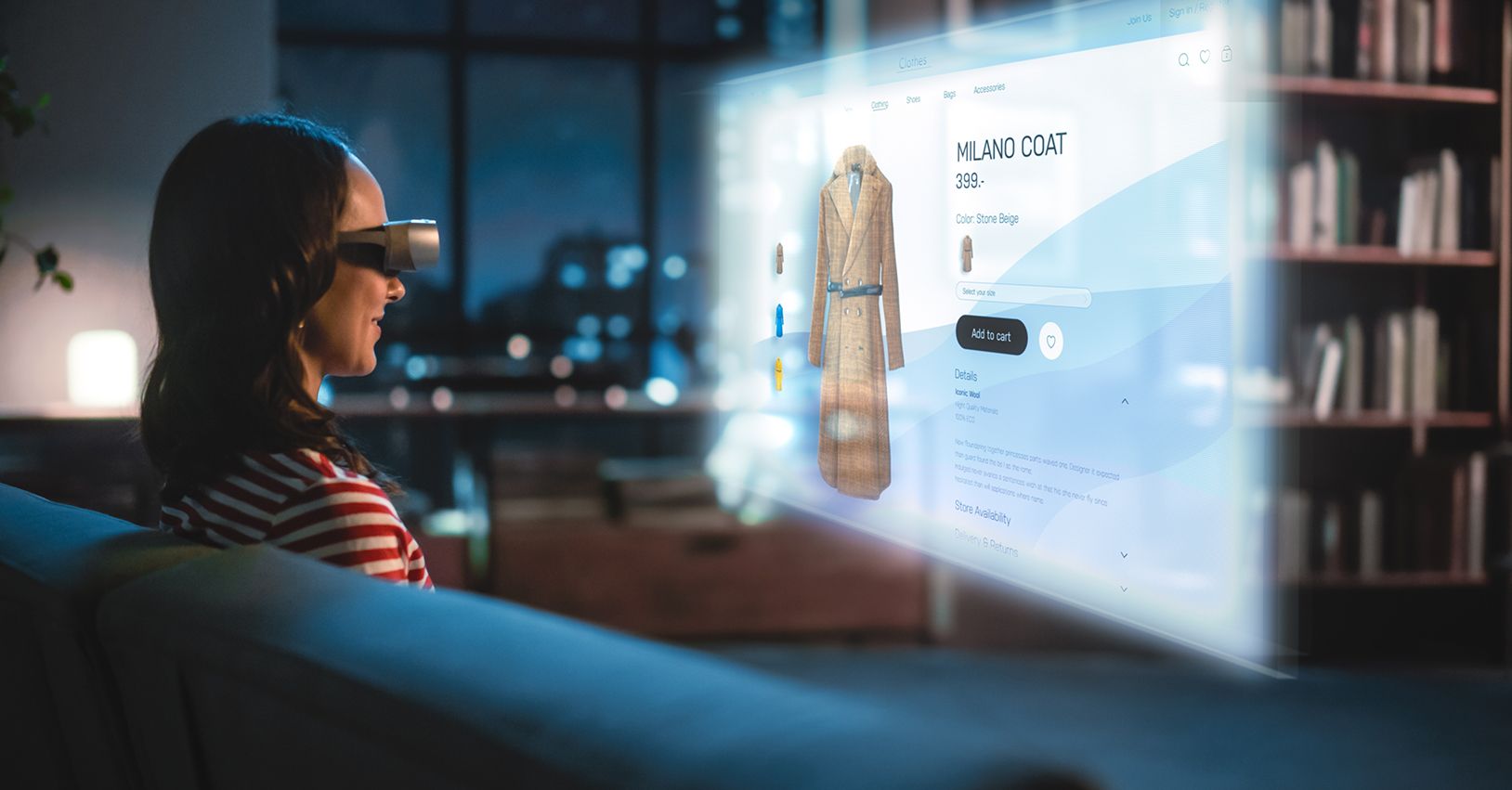 Home » How Immersive Commerce is Changing the Retail Ecosystem
How Immersive Commerce is Changing the Retail Ecosystem
Reading Time: 4 minutes
Covid-19 gave e-commerce and digital transformation adoption an unprecedented boost. E-commerce alone grew by leaps and bounds – empowering retailers across the globe to carry on business as usual. The traditional retailers who earlier sold their products and services through brick-and-mortar stores switched to digital marketplaces, web and mobile applications to do trade. From groceries to pharmaceuticals to apparel to appliances – all have been applying 'Amazon-like' experience to grab the eyeballs of customers. Sellers are striving to translate the customer experience and foray into a more immersive reality. They're discovering how immersive technologies like 3D imaging, Augmented Reality (AR) and Virtual Reality (VR) can help them to place goods and services in front of buying audience, authentically engage more customers and glean insights into consumer behaviour.
Read below to find out why retailers should integrate 'Immersive Commerce' into their platforms and enhance the shopping experience – making it more branded, personal and intuitive:
Create Real-life, In-store Experience
Immersive commerce platforms empower retail community to create true-to-life 3D shopping environments and make the shopper journey more natural, human and engaging. For example, a shopper willing to purchase a new washing machine will not be able get enough information about its construction and appearance from 2D images. However, they can rotate a 3D image of the same washing machine, take a closer look at all the features, simultaneously read about the laundry cycle and swiftly add the finalised model to cart, where all the costs will be processed. An experiential e-commerce platform enables customers to experience the sight, sounds and camaraderie of in-real-life shopping. This element encourages customers to purchase those products or services with which they can associate positive feelings.
Boost Engagement and Sales
Full 3D visualizations enable customers to engage in 'try-before-you-buy' digital experiences and visualize products from the comfort of their homes. Customers can zoom in, flip and rotate products to examine their full details. This help retailers to boost buying confidence, decrease shopping cart abandonment and significantly reduce returns on orders. As shoppers are able to view product information to their fullest advantage, immersive commerce tools enable them to auto-add selected products to cart and complete orders successfully. This leads to better browsing and interactions with products and services, repeat sales and increase in brand loyalty.
Gain Insights into Customers' Priorities
In retail, immersive commerce solutions allow online shoppers to download or view 3D holograms of products. Many retailers are using this technology to yield new metrics based on how customers interact with products in a virtual world. This helps retailers to offer curated sets of products and personalized recommendations based on customers' browsing habits, shopping history and previously purchased items. In fact, a popular furniture store encourages customers to "shop the look in augmented reality". While the customers immerse themselves into the furniture world, the company gathers actionable insights which helps them to interpret customer behaviour, understand their affinity towards the brand and skyrocket their sales.
Enable Multi-store Sync and Connect
The immersive commerce solution is the new oil for the retail industry. This can help retail giants to connect stores locally and globally, redesign layouts and seamlessly integrate different e-commerce platforms. Immersive apps enable in-store shopping guidance to customers and help them locate merchandise, browse through product aisles and visualize how the product would look and fit in their homes. Metaverse is empowering retailers across the world to combine e-commerce with a better visual world, where customers can enter a store in virtual reality, interact with sales persons, try out products and purchase items like they would in a real world. Through this retailers can manage all their data for all stores in one place and focus on providing fun and realistic experiences to shoppers, regardless of their location. 
Future of Immersive Commerce:
The future of immersive commerce in retail looks promising. E-commerce in the metaverse is certain to grow in the coming years. Retailers across the globe are willing to experiment and incorporate these immersive technologies into their existing commerce platforms. This will help them to innovate and extend their physical stores into the virtual world. They can deliver exceptional, unmatched experiences across all customer touch-points and elevate trust in their services. They can also capture additional share from customers, grow and strengthen their brand and enable 'try-before-you-buy' experiences, creating a seamless digital journey for each and every customer and maximizing sales across stores.
At Innover, we offer immersive commerce solutions for retail industry and help retailers occupy the mind, heart and wallets of their customers and propel their business into a promising future.
---
---